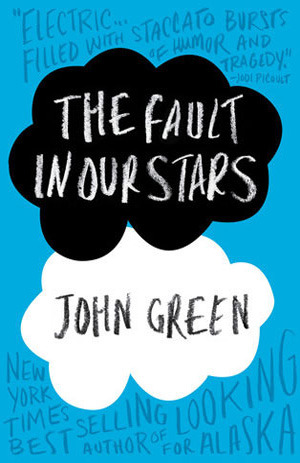 Published: January 10, 2012
Publisher: Penguin Books
Acquired: Paperback
Despite the tumor-shrinking medical miracle that has bought her a few years, Hazel has never been anything but terminal, her final chapter inscribed upon diagnosis. But when a gorgeous plot twist named Augustus Waters suddenly appears at Cancer Kid Support Group, Hazel's story is about to be completely rewritten.
Saying that this book made me cry is an understatement. I have never seen two teenagers who are so...philosophical-for lack of a better word. I mean, they have cancer which I think only a handful of teenager experience and don't want to experience. It's just that the two of them were like handpicked to have cancer.
The thing about John Green is that he makes characters so extraordinary yet readers can relate to them in a way. They way he created the words and weaved them to become sentences that are so deep and meaningful is what got me and the other readers as well.
It's a metaphor, you see. You put the killing thing right between your teeth, but you don't give it's power to do the killing.
That's the thing about pain. It demands to be felt.
My thoughts are stars I can't fathom into constellations.
You realize that trying to keep your distance from me will not lessen my affection for you. All efforts to save me from you will fail.
The next one though is enough to make my heart race like it's been racing the Indy 500 twice and then it would stop as if died. (Well, I died while reading this quote. SERIOUSLY)
I am in love with you, and I'm not in the business of denying myself the simple pleasures of saying true things. I am in love with you, and I know that love is just a shout out to the void, and that oblivion is inevitable, and that we're all doomed and that there will come a day when all our labor has been returned to dust, and I know the sun will swallow the only earth we'll ever have and I am in love with you.
I think I just practically typed the whole book here. But really, my wits and feels are scattered all over the place even if I finished reading this thrice some months ago. This is the most heartbreakingly beautiful book I have read next to Nicholas Sparks' The Notebook and A Walk To Remember. I'm sure you guys know how those two books went down, right?
I am quite pleased to tell you that this book is going to be a movie this JULY!
Seriously, I'm not shitting you guys. It will be a movie. Everything heartbreakingly beautiful about this book will be seen in movie theaters and of course, downloaded on torrent sites. So, better prepare your Kleenex and your most comfortable clothes and bring your friends with you because crying alone is just pathetic. It's better to cry along with someone.
John Green's first novel,

Looking for Alaska

, won the 2006 Michael L. Printz Award presented by the American Library Association. His second novel,

An Abundance of Katherines

, was a 2007 Michael L. Printz Award Honor Book and a finalist for the Los Angeles Times Book Prize. His next novel,

Paper Towns

, is a New York Times bestseller and won the Edgar Allen Poe Award for Best YA Mystery. In January 2012, his most recent novel,

The Fault in Our Stars

, was met with wide critical acclaim, unprecedented in Green's career. The praise included rave reviews in Time Magazine and The New York Times, on NPR, and from award-winning author

Markus Zusak

. The book also topped the New York Times Children's Paperback Bestseller list for several weeks. Green has also coauthored a book with

David Levithan

called

Will Grayson, Will Grayson

, published in 2010. The film rights for all his books, with the exception of

Will Grayson Will Grayson

, have been optioned to major Hollywood Studios.





In 2007, John and his brother Hank were the hosts of a popular internet blog, "

Brotherhood 2.0

," where they discussed their lives, books and current events every day for a year except for weekends and holidays. They still keep a video blog, now called "The Vlog Brothers," which can be found on the

Nerdfighters

website, or a direct link here.
Fellow nerfighters! Send your love to John Green here:
Goodreads
||
Youtube
||
Twitter
||
Blog
||
Instagram
SURPRISE!
Get a chance to win these beautiful The Fault In Our Stars inspired shoes! Quite perfect for your outfit when you watch the movie this June. It's really simple. Just follow See-sters on Twitter and like them on Facebook to win. You have until the end of this month to send your entries.
Like them on Facebook:
Follow them on Twitter: