Wicked Journey is a feature is where I recount the times I actually went out of my comfort zone and went to different places. This includes book signings, travels, and other posts related to journeying.
Good morning. It's April 2 already. OH MY GOD. I totally missed posting yesterday for #BandTuesdays because I was on vacation with my family. :-) But yeah, I'm back. But I still can't believe that it's April already. O.O
So last Saturday, March 29, I went to my first ever book signing. Becca Fitzpatrick, author of Hush Hush, dropped by Manila and Cebu to meet her fans. :-) Now, Hush Hush is about fallen angels and Nephilims. The Nephilims here are different in other books (i.e The Infernal Devices by Cassandra Clare). Nora Grey is just a normal girl born with in a race hunted by fallen angels. Fallen angels, as the name suggests, are banished from heaven and is cursed to walk Earth with a hunger to possess a human body. They cannot feel. Nora then meets Patch, the mysterious guy, who became her Biology lab partner. Patch wants Nora for her body. Literally.
Now back to the event. I arrived at National Bookstore in Glorietta at around 10:30. The registration starts at 11 am. But fans are best for being punctual. There are four books in the series but I only got three because I only found out that the last book already has a paperback copy and I don't have enough money to buy it.
I'm number 342-344! Once I got my books numbered, I sat on the floor and waited for five hours. I was alone so yeah. I got to finish Champion by Marie Lu too!
My camera shots are blurry for the main reason that I am at the back. She's so pretty.
She talked about her writing. She based Hush Hush from her experience when she was in high school. She also gave tips for future writers. Perfect for me! :-) And to you if you want to be a writer.
"Join critique groups so you could share your work with other people and you can get feedback. And not only that when you seek publication, it will be nice to have that solidarity of having a group that can cheer you on. I would also say read. Read whatever you can get your hands on. Not even just the genre you just want to write but also different genres. You can learn so much from science fiction, fantasy and historical."
She also talked about her new book, Black Ice, which is a stand alone book that will be released this October. During the event, there were three fans who were so early (they arrived at 6 AM!) and got so lucky they got a coy of Black Ice before everyone else.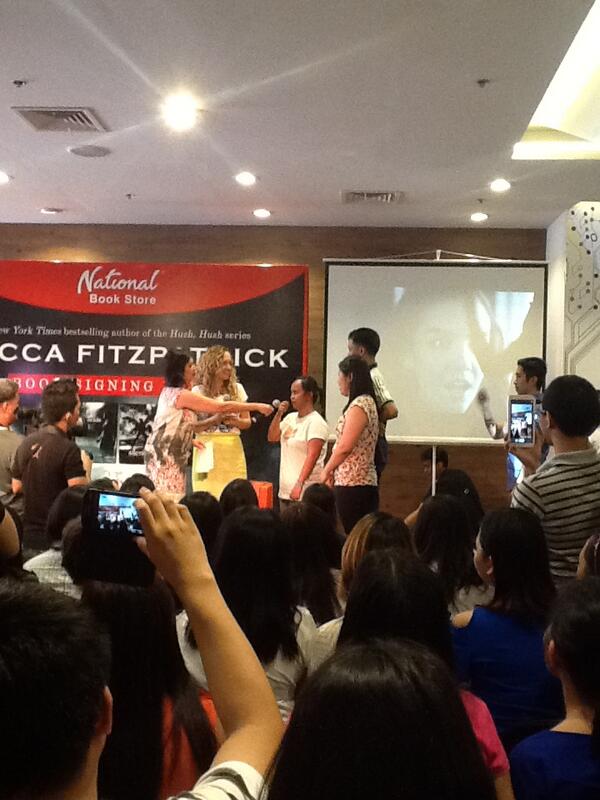 It was almost 6 when the signing began. And I got more nervous each time. When they called the books numbered 301 to 360, I was shaking. I mean, I get to be face to face with an author. I kept thinking what to say so as not to embarrass myself. But alas, I didn't. So I just walked up to her, gave her the books. I smiled wide. And the way she said my name, gave me an internal heart attack!
(Messy hair <3)
I will never forget that day. It was amazing and I went home happy. Here's to more book signings in the future.