Published: February 29, 2011
Publisher: Putnam Juvenile
Series: Legend #1
Acquired: Digital copy
Legend is set a hundred years in the future where United States of America is divided into two, the military Republic of America and corporate owned Colonies of America. Daniel Altan Wing, aka Day, is the Republic's number one criminal. Having failed his Trials and having his body experimented, he is believed to be dead.
Day is fifteen years old and he can climb buildings taller than him. He moves fast like he's flying making him very impossible to track. There is a plague spreading in the slum sectors, where he is born. And unfortunately, his family has been hit by the plague. He is desperate to save his family.
Enter June Iparis, the Prodigy. As the name suggests, she is the only one who scored a perfect score 1500 in her Trials at age 10. A known troublemaker at school, she is the youngest Republic agent at age 15.
Their lives become intertwined when June's brother, Metias, is murdered and everyone believes that it was Day who killed him.
But not everything is what it really seems to be.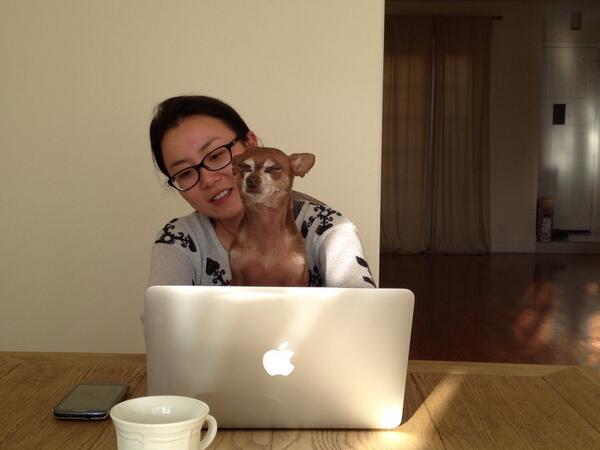 (Marie Lu with her dog, I presume. Taken from Marie Lu's Twitter account
here.
)
I was utterly blown away. It was different from all the dystopian novels out there. The chapters are alternating from Day's POV to June's POV. I enjoyed reading it from Day's POV mainly because it's like I'm in a game and time is ticking and I need to complete the mission.
Marie Lu gave me an idea. I mean, it's set like hundred years from now, which I'm sure it could happen. I think I won't live to see it.
United States of America, the most powerful country in the world. It's the free country. And the thought of it being divided into two gives me chills. I can never imagine America under Martial Law. Martial Law ain't the prettiest thing ever. Trust me.
Or it being even controlled by corporations. Just. No. I prefer USA being free.
I always love authors who create characters that I will ultimately hate throughout the whole series. The minute I saw Commander Jameson's name on the pages and how Marie Lu described her, I knew that I will hate this character so much.
And then there's Day's best friend, Tess. She is just the sweetest girl ever. And the kind of best friend you would want to have if you're a guy. She is very protective of Day. I wish there's a novella for her. I love her more than June.
Do find time to give this book a read. It is definitely worth a read. And feels.
She writes young adult novels, and has a special love for dystopian books. She was born in 1984. Before becoming a full-time writer, she was an Art Director at a video game company. She shuffles around at home and talk to myself a lot. :)
She graduated from the University of Southern California in '06 and currently live in LA, where she spends time stuck on the freeways.